Best Little Blog Whore in Texas
Jazz had a motherfucker of a day today. We're still hashing it out so I'll save the post until tomorrow night when I know better what she's going to do. Fucking shark pool at the office can be vicious.
So for now, let's talk about whores. Blog whores, to be precise. It seems our little
Catt
nominated me for
Biggest Blog Whore
on Best of Blogs. I'm shocked. I'm not saying it isn't deserving, I'm just saying I'm shocked. And flattered. I'm such a whore.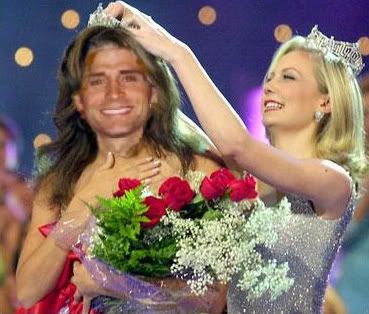 (Photo ripped off from Gigglechick then fondled and manipulated in such a way as to be offensive and revolting to anyone subjected to it.)

So here are the rules:
1. Vote as many times as you want, but not more than once per 24 hours.
2. Be damn sure you vote every 24 hours.
3. Be extra damn sure you're voting for me. Otherwise, that would really suck for me.

Do the same for Catt. She's a finalist for Most Humorous Blog. I don't know, I think I should have gotten Most Humorous Blog but apparently I had sex with the wrong people. I hate when that happens. Anyhow, Biggest Blog Whore and Most Humorous Blog are together near the bottom of the list. Now go call me a big, nasty ho and make it count.

Second note of business is the following list. Sure, I've missed a few. It's inevitable. But I got most of you. I was preoccupied at the end of the year and didn't get around to posting this until now. Thanks for being patient and thanks for stopping by.

Nita - When I complained about Squat's breath you told me what to buy to make it "french kissable". I've thought you were a freak ever since.
Jane - My 2am blog stalker
Trashman - The kind of motherfucker you can't help but like. Don't forget to vote for him in 2008.
Kristin - Despite your refusal to respect the ordinary paragraph break, somehow you lure me and keep me coming back.
Cav - You don't have shit to laugh about, and yet you do it all the time. Love the positivity and yes, her boobs are (not)real. ;)
Kev - No, I will not send you naked pictures of my ass!
Jenn - An original Goonie from the Right-Brained days.
Chrissie - Watch out for this one. She pees in the men's room.
Renee - Thank you for opening my eyes.
Martine - Hartelijk gefeliciteerd gezhundheit hock phlegm mazel tov
Inanna - Don't think I've forgotten that you sided with Jack back in July when we he got his panties in a fictitious knot for the purpose of entertaining ourselves. Thought that shit was dead and buried, didn't ya? I'm delicate, dammit.
HarelyQuinn - A newbie to the party as well as blogville. Come on in, we don't bite. That hard.
Kim - You were the first person to comment on my blog way back when. Ya popped my cherry. I haven't been the same since.
Magikgrl - Another long time family member. Can't believe you're not sick of my shit yet.
Angi - Your blog has been the pathway to an entirely different outlook for me. I could live to be 100 and the things I've learned for your family will remain with me.
HickeyNC - I'm sure you have a blog but I don't have a URL. I'm thinking you're the Canadian transplant living in the South. If I'm wrong let me know and I'll update.
Miss Nik - looks like we'll travel this road together, huh? Congrats on your engagement
Sarah - Can you believe you've been around since the summer? Go away! ;)
Julie - Everytime I go to your blog your motto cracks me up.
Beth - Prettiest damn bean counter I've ever seen.
Jazzy - So let me get this straight: You steal my girlfriend's name, you steal my Best Little Blog Whore in Texas tagline, you steal my wallet, you take over my life, you send me nasty emails, you...I'll think of more shit later. Sit. Don't go anywhere. I'm not finished with you yet.
Vicki - I tried to lick my eyebrow. You were right. I feel so stupid.
Ricky - You in 9th grade yet?
JP - It's my goal to bring you over to the darkside of conservatism. I appreciate lofty, unreachable goals.
Aimee - You are forever the beaver woman to me.
Isacc - Your blog makes me laugh. Why the fuck do you read me?
Crazygirl - I have read your blog. Your name is not a misnomer.
Dave - Keep eating those tacos, man.
Jes - Don't know you yet, but anybody from Texas can't be all that bad.
El Sid - For the longest I thought you were a gay dude. The whole "el" part had me completely thrown.
Restless Angel - That shower post made me take a shower of my own.
Jamie - An original brat pack member. Girl, you're one of the horniest women I've ever known of. That's cool.
Kate the Peon - When are you going to get BigDaddy James to fix your template?
Jeanette - I like your pussycat. ;)
Lou Lou - Ha-HA! I think I found you first. Did I not? Either way, I'm claiming I did.
Stacey - I'm a non-prom king, myself.
CooterAng - Walked naked down any more streets lately?
Celti - The originator of the Dastard Birthday Blastard.
Boonzie - Come and go as you please, my friend. We'll leave the light on for ya.
M (justjook) - Someday you'll go postal on your MIL. Lemme know in advance so I can be there.
Steve - Where's my Porsche? I want a silver one.
Ali - I gotta admit, you're brand spanking new. Don't know you too well yet. I'll start with your eskimo post shortly. Thanks for cruising by.
Tricia - You've got some cool graphics on your blog. The body piercings made me cross my legs and wince, though.
Mrs. Darling - Your template is adorable. It brings out the 9 year old in me. (Yeah, as if it weren't dominant all the time.)
Elle - It's like eating potato chips. Once is never enough.
Madame - Ever watch Madame's Place when you were a kid? She was a crotchety old hag puppet. Sorta like Judge Judy. They both rock.
Girlie - You don't comment often but I see you when you do.
Spacecake - Spacecake, dreaming fairy, Elizabeth Lee, pick a name! Ya damn schizo.
Kay - Is pot legal in Belgium?
Matt - I went to Oklahoma once. It smelled like burning cow.
Michelle - It's always about you, yourself and you again, isn't it?
Ashley - If there were more women like you when I was in school I might not have rushed through it so quickly.
Catt - I've always wondered...why does catt have 2 t's but cativa have one? Answer me this or I won't nominate you for most humorist blog. Oh wait, you're already a finalist! Silly me, I'm such a catty whore. LOLOLOL!
Tinyhands - Man, the Texans sucked last weekend. Did you see that shit?
Ren - I hated your guts at first, but you grew on me. Okay, I'm a liar. You never grew on me. ;)
Anita - Anita Willanita, Anita Willanita, I just like saying it over and over, Anita Willanita, Anita Willanita.
Zelda - You have beautiful eyes.
Riz - My little blooming onion, my bag of Aussie chips, my Foster's in a can, sorry your bag got stolen. Want me to beat him up?
Seven - Like the new template. The photo of you drinking a beer is gone. I meant to ask you about that. Keeping that liver from getting lazy on you, huh?
Iris - thanks for stopping in.
Derek S. - Long time no talk, dude. Whassup?
Eric - I've only glanced at your blog for a minute, but that was long enough to see your pug.
Tommy - Jack still hasn't convinced you to start your own blog?
Rae - Who's in the upper photo on your blog? Give that girl a carrot. She looks hungry.
Jenny - Damn, your computer's been broken forever! Glad you're still dropping in from time to time though.
Sheri - Your dog photos had me rolling. I cracked up at the last one with his ears flat.
Varla - Is it just me or has it gotten quieter since all of the aliens, guns, boobs and sloths left town?
Cuppojoe - First time I went to your blog I was expecting posts about coffee. Boy, was I in for a surprise.
Diva - Another Texas honey. Can't have too many.
Brian - Brian, you wishy washy son of bitch. Sit, stay, write!
Kat - Boy, I learned some shit about your in that Q&A post you did a few weeks back. Damn, you made me blush!
Janelle - You've said some nice stuff to me before. Just wanted you to know I noticed and appreciated it.
Willful Expose - I'm sorry your host is an asshole.
The Dave - Who the fuck am I supposed to pick on now that your unemployed and netfree?
Sloth - What a tumultuous relationship, huh? Don't be a stranger.
Bitchalicious - Girl, you're one funny bitch. Let's chat again sometime. I'll have to wear condoms on my hands next time. Ribbed for my pleasure.
Sylwia - How's my lone Polish reader?
tCj - Is your vacation ever going to end??
Kevin - TJ's Place started it all. Good luck to you blog-free.
Jethro - Your wife has beautiful eyes.
HazelEyedPisces - What, you don't love me anymore?
Cybele - I think the Grinch ate you.
Yoli - You have the coolest ostrich I've ever seen. I saw another blog last week ripping off your photo. Don't worry. I kicked his ass.
Dastard - The birthday bash was fun. And your sense of humor is somehow off kilter enough to be pretty damn fascinating.
Vadergrrrl - Miss you, V.
Jas - What did you think of the Phantom? That's a great play. I saw it when they toured through Houston back in '98.
Seeker - How are the Bads?
Phipps - Between you and Sloth, I don't know which is more pleased with his/her shoes. Then again, Fleece might out-shoe you both.
Fleece - You and that camera phone are dangerous.
Leese - You created this monster. You hate it now, don't you?
Brandi - I know you moved when to have more privacy with Josh. Hope you're doing well.
J-MO - Are you still alive?
Bigdaddy James - Dude, you spent hours on my template between 2am and 5am. And even though I reliably changed it 2 months later, I really appreciated it. Just wanted to say thanks, more so for the thought.
Gooch - Gooch, my man! Don't go far, I'll need your advice soon.
Sara - You're mostly silent, but I know you're out there.
Mike - Lyrical gangsta! I still got Poppin' Jay in the archives.
Dan Tobin - I forgive you for being a democrat. You know not what you say.
Esther - You're like the wind, you come and go as you please, but I always know you'll be around.
Johnny 5 - Man, that snow is cool on your website! I spent way more time on it than I wanted to staring at it, you bastard.
Justin - Keep it reel, man.
Rita - It's been a while since visited. Hope your holidays were great.
Angela - I still feel bad that I hurt your feelings back in June. I'm really sorry. If you've been reading then you know I grew up under the same conditions you thought I was insulting. Maybe I was, but it was aimed at myself and not you. Hope 2005 is a good one for you.
Nord - You're another silent one. Thanks for reading.
and finally:
Jack - Thanks, buddy.