Going to the chapel and we're...
The time has come. I'm 30, she's 30. I'm hot, she's hotter. I'm smart, she's smarter. I'm the man, she wears the pants. Sounds like a match to me.
Speaking of matches, we're down to the last hours of the dollar for dollar Jay Match. Based on emails I've gotten since the last count, we're currently at $905. Are we gonna make this thing hit quadruple digits or what?
You know what to do.
If you want me to list your name in the "Vannah Fans" post on Monday be sure to drop me an email. Even if you already did, do it again. I got ADD, ya know.
I showed this photo to Angi a few days ago. Thought I'd share it with everyone else, too.
This is my sister Julie, taken summer of '74. She was 2 1/2 years old.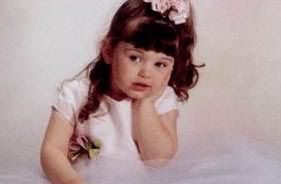 Here's Savannah at the same age, taken in 2002.
I didn't pick up on it until Angi mentioned something. Just goes to show how bright I am. Julie's eyes are dark blue and she has a dimple in her chin which she gets from my old man. Vannah's way cuter than my stupid-head sister.
I'll write some time this weekend about the actual day and how lucky she is to have me. If we don't talk before then I just want to say...thanks, guys.
I can't believe
this woman
is marrying me.