They're here!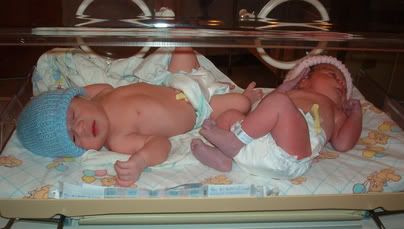 Hi, it's me again for Jay.
The twins were born just before lunch today! They are perfect and healthy and Mom is doing great! Dad got to cut the cord for Olivia, but then he got queasy and had to sit down. He did much better with Benjamin. Jay wrote down everything he wanted me to write.
Olivia Claire (that's our mom's name. we're all so touched.)
4 lbs. 15 oz.
18 3/4 inches
11:12am
Benjamin Grant
5 lbs. 6 oz.
19 1/2 inches
11:32am (i can't read his handwriting, but i remember a nurse saying 20 minutes apart. they were both delivered vaginally.)
Congratulations, little brother. You did good.
Jules